Whoever said 'Running is like therapy…' was probably talking about days like this. I'm super stressed & anxious about all of the things going on this week. How are you doing?
While I don't think running is truly like therapy (I'm a big proponent of real therapy with a professional therapist)… I do think running is a great way to relieve stress, clear your head, run off some anxious energy and/or take some time for self care.
If you're feeling a little anxious I highly recommend doing something to help yourself get to a more peaceful place.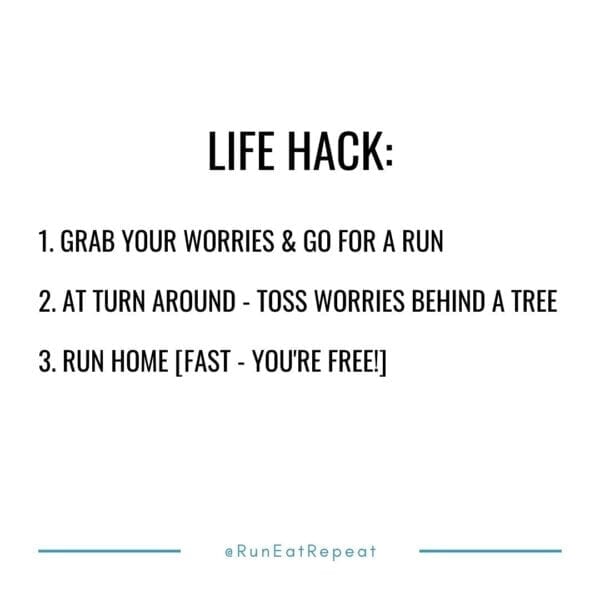 How I Deal with Anxious Times:
Take a walk
Roll around with my Diego (my golden retriever dog)
Pray
Call someone and get it off my chest
Take a few deep breaths, close my eyes & stretch my arms to the sky
Eat chocolate… I bought Halloween candy just in case there were any trick or treaters – there weren't, so I had a lot!
Drink calming tea & watch TV without my phone in hand
Make an appt with my therapist & try to put it away until then – I kind of think of this as putting 'Worry about xyz' on my To Do List. Then, it's scheduled to happen during my therapy appt so I don't need to keep worrying about it – I have a time set aside for that. And addressing it in therapy allows me to think & talk about it in a productive way so I'm not really just worrying about it.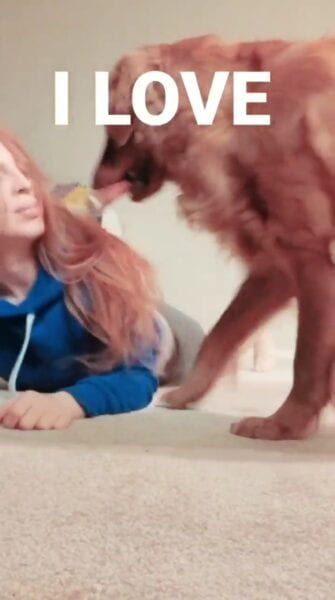 PILE on the MILES – 50 Mile Tracker Example for Running & Walking
A lot of you have asked if you can count walking miles for the challenge – yes. This is your challenge – you should set a goal that helps you feel good, stay on track, feel good and/or move towards your long term goals.
Today one of the participants shared how they're color coding the miles depending on walking & running on Instagram and I shared it there and want to share it here too.
Here's a screenshot of my story sharing it from @fitandclean_83 on Instagram.
Note: You can fill in the miles with different colors depending on if you're Walking or Running!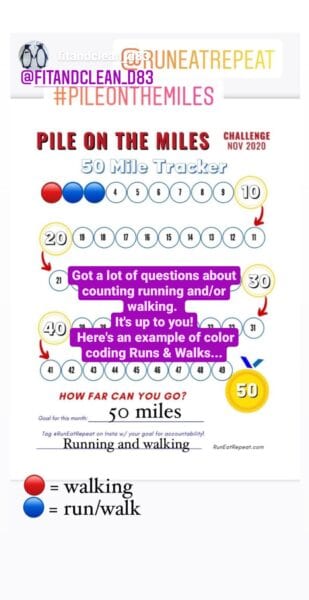 I'm sharing your posts and updates –  be sure to tag @RunEatRepeat on Instagram so I'll see it.
Note: Right now Insta isn't including accounts from the U.S. in the hashtags – so if you use #RunEatRepeat #PileontheMiles or any other popular #Running hashtags – I can't see them to repost or interact & neither can the other runners doing the challenge.
I want this to be a great challenge for everyone and for you to be able to get encouragement and motivation from others. Be sure to check in with my daily IG posts or on the blog posts – comment with your run, workout or rest day (or random thoughts). This will help you stay accountable, keep it a habit for the month & expose you to new friends and followers!
Related Posts:
Why I First Went to Therapy & more Run Eat Repeat Podcast 109 
What to Eat For Better Sleep Run Eat Repeat Podcast 113
<!–
–>
https://www.specialreviews.net/pile-on-the-miles-day-4-running-isnt-therapy-but-it-helps/